What is TRiO Student Support Services?
TRiO (S3) is a federal program that helps students stay in college.  The program enhances students' academic skills, increasing their retention and graduation rates.
Who is eligible to participate in TRiO Student Support Services Program?
Student Success Center (HU Village 3500)
Heritage University
3240 Fort Road Toppenish, WA 98948
Phone: 509-865-0447
Email: TRiOS3@heritage.edu
What are the hours of operation?
Office Hours:  Monday through Friday, 8:00 a.m. – 5:00 p.m.
What services are provided for students?
The program offers a variety of services and activities:
Academic Advising
Study Skills Developmental Workshops
Career and Cultural Diversity Workshops
Technology Workshops
Financial Aid and Financial Literacy Workshops
Tutoring
Computer use
Cultural Enrichment Activities
Graduate School Visits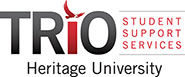 ---
Hours
Monday-Friday
8:00 AM – 5:00 PM
Heritage Village – Building 3500
---