Giving Talent Opportunity


Investing in scholarships at Heritage University gives talented students an opportunity to pursue higher education. College degrees that may not have been possible are now possible. With scholarships, students grow academically, advance in careers and impact their communities as thoughtful leaders.
---
Stories of Support
Ways your generosity helps
Since the founding of Heritage in 1982, our donors have helped us create opportunities for thousands of deserving students. Heritage provided more than $7.5 million on scholarship aid in 2016 alone. The need remains significant, however. After the distribution of state, federal and Heritage scholarship monies, this year's unmet student financial needs totaled an additional $2.5 million.
In addition to scholarship funding, our generous donors have enabled Heritage to maintain a PhD-level faculty and to bring in industry experts to share their knowledge and talents with students. They have also helped us build new classrooms and state-of-the-art laboratories as well as support additional degree programs that fulfill the employment needs of the Yakima Valley. Thanks to the generosity of donors, Heritage can ensure that our students are just as prepared to enter their chosen career fields as any other college graduates nationwide.
Harry and Jackie Helliesen
"We first became acquainted with Heritage University through several of our friends who serve on its board of directors. We were invited to the annual Scholarship Dinner and ended up going again every year for about six years. After seeing all who are involved and the good work they are doing, it became apparent to us that this was a worthy cause that deserved to be a part of our estate planning."
Gale Barre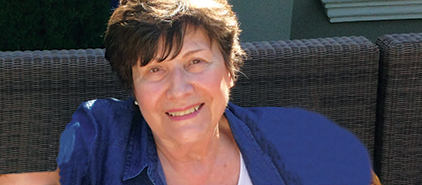 Gale Barre became acquainted with Heritage University through Seafirst Bank (now Bank of America), where she worked many years until retiring in 2001. When putting together estate plans with her attorney, Gale decided to bequeath a portion of her estate to Heritage to be dedicated in lasting remembrance. "I chose to focus my charitable giving on education because I really think it is the door to opportunities," said Gale. "What attracted me to Heritage was that its many diverse students are really committed to getting their education and opening doors for themselves. And in most cases, hey are the first in their families to attend college."
According to Barre, including Heritage in her estate planning was quick and easy, and she finds it very comforting to know everything is already taken care of. Barre stresses that planned giving is something anyone can do, regardless of the size of one's estate.
"You don't have to be a multimillionaire to include Heritage in your final plans," she said. "Everyone who cares for the university can remember it in their planning for any amount they choose to give."
Contact Us
Heritage University
Office of Advancement
Tel: (509) 865-8587
Email:
advancement@heritage.edu
Mailing address:
Office of Advancement
3240 Fort Rd
Toppenish, WA 98948
Create A Legacy
Investing in Heritage University gives talented students an opportunity to pursue higher education.