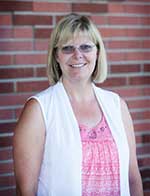 Tamera
Wiley-Fauth
Coordinator, ASC
Math & Computer Science
Kathleen Ross, snjm Center
Ext: 5430
Courses Taught
Developmental math coursework
Math 117 Fundamental Math for Teachers II
Math 135 Business Algebra
Math 140 College Algebra (with lab)
Math 150 Trigonometry (with lab)
Math 212 Calculus
Stats 221 Intro to Statistics (with lab)
Soc 220 Intro to Statistics (with lab)
Math 245 Business Calculus
Math 322/323 Probability and Statistics I & II
Education and Degrees
Master's Degree: Master of Arts in Teaching — Major: Mathematics Education — Location: CWU — Date: 08/01/2007
Bachelor's Degree: Bachelor of Arts — Major: 4-12 Mathematics — Location: Heritage College — Date: 05/01/2002
Certificate: HSI Certification Training fall 2015- spring 2016
Professional Experience
Position: Advance Placement High School Mathematics Teacher
Start Date: 8/1/2002 End Date: 6/30/2014
Company: Wapato High School
Position: Adjunct Mathematics Faculty
Start Date: 8/23/2007 End Date: 5/16/2013
Company: Heritage University/Central Washington University (Cornerstone Program)
Position: Full-time Mathematics Faculty
Start Date: 7/1/2014
Other
Prior to obtaining my college degrees, I spent 18 years working in the business field primarily in accounting positions.
Special Interests
Building network and partnerships with local school districts (Administrators, Math Coaches, and Teachers). Actively Involved in Bridge to College Math Project as a higher education partner for regional high school math teachers. Strongly believe in increasing math majors & math education majors involvement in local school and community events.
Community Engagement
Transitional Math Project – Yakima Valley Regional Group Bridge to College Project – Eastern Washington Regional Group – Violet Lumley Rau Outstanding Alumni Award – Heritage University May 2006 – Heritage University PEAB 2002-2014 – Higher Ed Partner for Bridge to College Math Project (Washington State Board for Community & Technical Colleges) 2014-present. Implementation of the annual Heritage University hosted Washington State Math Council sponsored Math Olympiad spring 2016 – present. Volunteer coordinator of Heritage University Math Department (with HU students) participation activities conducted at local middle and elementary school math night activities. Heritage University Assessment Committee member 2016-2017. New Faculty Mentor fall 2016/spring 2017. Volunteer Math Consultant for Christian Worship Center Academy k-12 school (Zillah Washington). Volunteer supporter for fundraising events at Christian Worship Center, Zillah, Washington. FAculty Advisor for Mabton Gear Up – summer experience 2016 in collaboration with Heritage University math department. Math Faculty Advisor for a grant-funded statistics internship project.
Research Interests
Mathematics education research – Increasing student efficacy by implementing student-centered teaching strategies into the college math classroom. AAC&U Transparency-Problem-Based Learning Project 2015-2016. HSI (Hispanic Serving Institution) College Teaching and Learning Certification Project 2016-2017
Publications and Professional Affiliations
Publication: Peer Review Winter/Spring 2016 Vol 18
Title: Transforming GE Courses from Predictive Contexts to Engage Unstructured Twenty-First-Century Problems
Date Published: 9/12/2016
Publication: AAC&U Crossing Boundaries Stem Poster Presentation
Title: Fighting the Fear – A Faculty Collaboration to Make Statistics Accessible to Introductory Students
Date Published: 11/13/2015
Publication: Washington State Math Conference Session Presentation
Title: Unleashing Your Inner Statistician: The Power of Using Open Source Software
Date Published: 10/22/2016
Organization: Mathematical Association of America 2014-present
Organization: National Council of Teachers of Mathematics 2012-present
Organization: Washington State Mathematics Council 2002 – present
Organization: Heritage University Teacher PEAB 2002-2014
Organization: Advance Placement Board 2009-2014
Summary
The Yakima Valley has been my home since birth. I have lived and worked in the community in the business field for many years prior to earning my college degrees. My experience as a mathematics teacher includes thirteen years as a high school teacher and ten years as an adjunct and full-time college instructor. I am committed to making a positive impact in the lives of my students. I truly believe that all students can learn mathematics. I infuse my life experiences, energy, and passion for mathematics into the classroom. My goal is to connect with people and to help them discover relevancy and the necessity for learning and using math in their daily lives as well as their future.