Women2Women at Heritage University
The Women to Women collaborative at Heritage University is a group of faculty and staff who are passionate about supporting women students at HU. Our purpose is to engage the philanthropic commitment of women in the community to help remove barriers to the educational success of our women students at Heritage.
Members of Women to Women wanted to identify key supports that can significantly impact the success of students. We began with a simple query to faculty and staff: what resource do you think could make a difference in the lives and success of our students? The input we received was overwhelming: quality, affordable childcare could make the difference in students' ability to succeed academically. Given this feedback, we initiated a student survey with the support of the HU Institutional Research Department, which validated childcare as a crucial need.
We are now working together with leaders from our community, many of them alumnae, to establish a scholarship fund that will aid students with tuition for high quality early learning and childcare. Given that women are 75% of our student body and that 28% are single parents, childcare is a crucial priority.
Why Early Childhood Education and Scholarship Support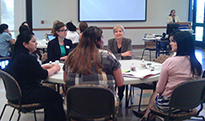 From the National Education Association: research shows that providing a high quality education for children before they turn five yields significant long-term benefits.
One well-known study, the HighScope Perry Preschool Study, found that individuals who were enrolled in a quality preschool program ultimately earned up to $2,000 more per month than those who were not. Young people who were in preschool programs are more likely to graduate from high school, to own homes, and have longer marriages.
Women 2 Women selected support for these scholarships because they both remove a huge barrier to our students' success and they will provide their children with the crucial cognitive and physical start they need for later success.
Nationwide, over a quarter (26 percent) of all undergraduate students, or 4.8 million students, are raising dependent children. Women are disproportionately likely to be balancing college and parenthood, many without the support of a spouse or partner. Women make up 71 percent of all student parents, and roughly 2 million students, or 43 percent of the total student parent population, are single mothers. Affordable, reliable child care is a crucial support for these students but is often tough to find, creating a significant obstacle for student parents, and may contribute to their relatively low rates of college completion. From research by the IWPR (Institute for Women's Policy Research) http://www.iwpr.org/publications/pubs/improving-child-care-access-to-promote-postsecondary-success-among-low-income-parents
Here at Heritage women are 74% of our student body.  We estimate 47% of the undergraduate females have children and 25% are single parents.
Heritage University Early Learning Center
The Heritage University Early Learning Center (HUELC) offers an educational experience within a nurturing environment for children ages 1 year to kindergarten age. The center is available to all students, all faculty and all families in our community.   More Information.
What will scholarships provide?
The scholarships will help with the following costs.
$   500 — Approximately 19 days or slightly less than a month
$1,000 — Two months
To get involved with this initiative, please contact NewWashington@heritage.edu. To contribute, checks can be made payable to Heritage University and sent to the Heritage University Advancement Office at 3240 Fort Road, Toppenish, WA 98948. In the memo line, write "Women to Women Scholarship Fund".